ÁPH80 / Ábaton Arquitectura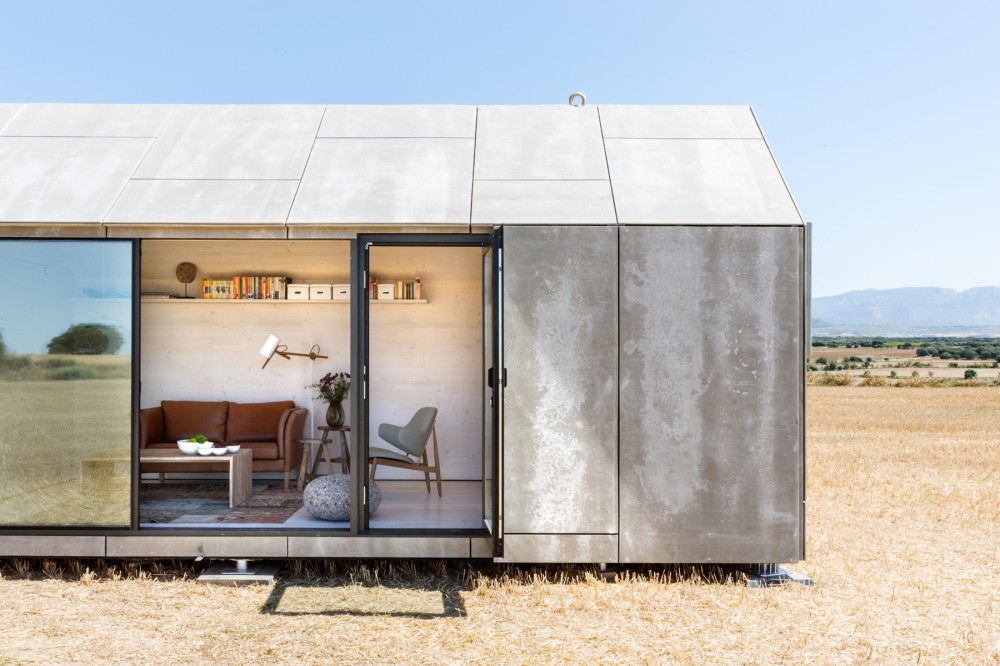 Transportable house by ÁBATON Architecture.
ÁBATON ha desarrollado la serie ÁPH80 como una vivienda ideal para 2 personas, transportable por carretera, que se puede instalar casi en cualquier sitio. / ÁBATON has developed the ÁPH80 series as a dwelling ideal for 2 people, easily transported by road and ready to be placed almost anywhere.
Las proporciones son el resultado de un exhaustivo estudio del equipo de arquitectos para que los espacios resultantes sean reconocibles y la sensación interior sea de plenitud. Se trata de una vivienda sencilla y robusta, en la que los materiales y acabados aportan sensación de equilibrio y bienestar. Construida en madera y transportable en un camión estándar, la ÁPH80 se inspira en los principios de Ábaton: bienestar, equilibrio medio ambiental y sencillez.
La ÁPH80 consta de tres espacios diferenciados: estar/cocina –con vitrocerámica o gas, nevera, fregadero y campana extractora- baño completo con ducha y dormitorio, en una superficie de 27 m2 (9×3), con techo a dos aguas de 3,5 m de altura en su punto más alto que proporciona una sensación de amplitud y confort basada en las líneas sencillas. La ÁPH80 incorpora materiales, en su mayoría reciclables, que cumplen los criterios de sostenibilidad que Ábaton aporta a todos sus proyectos. Se integra con la naturaleza gracias a la apertura de grandes huecos que incorporan el exterior en el interior proporcionando un efecto de gran capacidad. El uso de la madera entoda la vivienda proporciona tranquilidad y confort, además de ser hipoalergénica y provenirde explotaciones reguladas que evitan la deforestación.
Datos Técnicos: Exterior revestido de aglomerado de virutas de madera con cemento en color gris; fachada ventilada con aislante térmico de 10cm en toda la envolvente. La estructura es de madera maciza, fabricada mediante control numérico y el interior se compone de paneles de madera de abeto español tintados en blanco. Diseño y fabricación de la Serie ÁPH80 íntegramente en España. Tiempo de fabricación 4-6 semanas.
Tiempo de Montaje: 1 día.
Transportable por carretera en camión estándar.
---
The proportions are the result of a thorough study by our architects' team so that the different spaces are recognizable and the feeling indoors is one of fullness. It is a simple yet sturdy construction made of materials chosen to provide both comfort and balance. ÁPH80 embodies the principles and objectives of ÁBATON: wellbeing, environmental balance, and simplicity.
ÁPH80 has 3 different spaces measuring 27 sq mt (9×3): a living-room/kitchen, a full bathroom and double bedroom. Its gabled roof is 3,5mts high indoors. Most of the materials can be recycled and meet the sustainable criteria that ÁBATON applies to all its projects. It blends in with the environment thanks to its large openings that bring the outdoors inside. The use of wood throughout the building not only adds calmness and balance but it is also hypoallergenic. The sourced wood comes from regulated forests (will regrow to provide a wide range of other benefits such as further carbon storage, oxygen generation and forest habitat).
Technical Data: The outside is covered with grey cement wood board. Ventilated façade with 10cm thermal insulation around the building. Solid timber structure manufactured through numerical control; Inside timber panels made of Spanish Fir Tree dyed white. ÁPH80 has been designed and manufactured fully in Spain.
Manufacturing time: 4-6 weeks.
Assemby time: 1 day.
Transportation by road.
+Info : ÁBATON Arquitectura